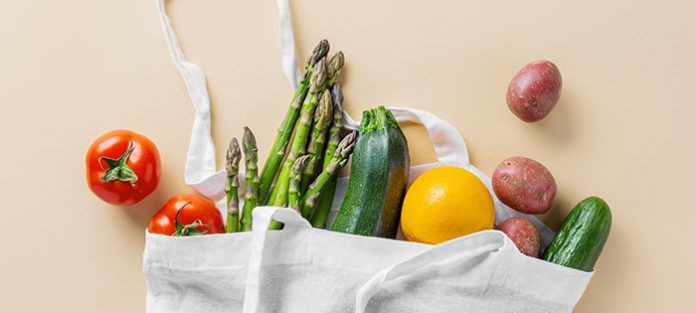 Read time:

9

min
Key points
Food waste is not only bad for the environment—it costs the average household over $1,800 per year. 

Meal planning is one of the best ways to stop wasting food (and money). 

Buying canned goods and freezing foods can help prevent food waste.
The average US household throws away an estimated 30 percent of the food it buys, according to a 2020 study in the American Journal of Agricultural Economics—and that accounts for nearly $250 billion in consumer food waste each year. "There's an enormous amount of food that's thrown out in our homes, in the dining hall, in restaurants, in grocery stores, and other settings every day of the year," says Maddie Keating, regional lead of the Food Matters Initiative at the Natural Resources Defense Council in Denver, Colorado.
All that waste has a huge impact on the environment: "Wasted food generates climate change pollution equivalent to 37 million cars per year and accounts for 21 percent of the material that goes into landfills," Keating says. But it also has a major impact on your wallet—that same study found that the average household loses over $1,800 a year in food waste. 
When your budget is tight, every wasted serving of leftovers and spoiled batch of produce matters—here's how to prevent food waste. 


1. Plan your meals
If nothing else, try to incorporate this one thing into your eating habits: meal planning. "My favorite way to reduce food waste is to look at my week ahead and plan around that," says Cassandra Andrews, a registered dietitian nutritionist in Orange County, California. "I consider how much I'll be home and buy produce and proteins based on how much time I'll have to prepare something to eat. Will I need grab-and-go fruits to snack on for early mornings or something that will hold in my car or bag for a few hours?"
Before you go grocery shopping, sit down with your calendar and any recipes you want to make, and take 15 minutes to write out a list. "I make a list of dinners and lunches I know I feel like making for the week and specifically only buy the items to make them," says Jessica B., a second-year undergraduate at St. Claire College in Windsor, Ontario. Stick to it
and your wallet will thank you. 
2. Buy canned goods
When you have an inconsistent schedule, planning meals can be admittedly tricky—a Tuesday night you'd planned to be home and making a fresh dinner can easily turn into takeout after a student showcase or an impromptu fajita night at a friend's place (pre-/post-pandemic). Think of buying canned goods as insurance against letting your grocery money go to waste. "Canned foods are a staple in my pantry in case I don't have the time to attend to more fresh ingredients," says Andrews. "My favorites are chickpeas, peaches, baby corn, and artichoke." 
3. Shop small
Another way to prevent yourself from overbuying and wasting food is to buy groceries every few days. Does planning out an entire week of meals seem daunting? "Buy enough just for the next two to three days, and make sure to use those foods first before buying more," says Keating. If you bought more fresh food than you can eat before it goes bad, see if your friends or neighbors can make use of it.
4. Get creative in the kitchen
"Learn how to cook with what you have on hand so you don't have to run to the market as often," says Keating. Luckily, you don't have to be a Chopped contender to turn whatever random food is in your fridge into an amazing meal. Try an app like SuperCook or Epicurious, which will help you find delicious recipes based on whatever you have on hand. You might just discover your new specialty—without having to make a food run. 
5. Repurpose food
Unless food is actually spoiled, it can typically be repurposed. 
Wilted spinach makes for a great smoothie addition, or you can sauté it for an omelet/scramble.

Overripe bananas are perfect for a batch of banana bread. They can also be peeled, sliced, and frozen for future smoothies.

Stale bread can be baked into crispy croutons or used in a recipe calling for bread crumbs.

Leftover herbs can be added to an ice cube tray with olive oil and frozen for future use. You can also try

drying herbs

 to make your own seasoning.

Wrinkly tomatoes can be turned into homemade pasta sauce.

Leftover veggies can pep up an omelet or be thrown together with pasta and some sauce.
6. Join the "ugly" produce movement
Food waste collectives like Imperfect Foods and Misfits Market ship perfectly good food that's not quite pretty enough for supermarket shelves to your door for a discount. Even with shipping and delivery fees, these services tend to be cheaper. (An analysis done by blogger Love Eat Travel found that Imperfect Foods was 28.6 percent cheaper than buying at the grocery store; a reviewer of Misfits Market said the service saved him about $10 per order.) 
Many grocery stores also offer foods that are blemished or nearing their expiration at a discounted price. Ask a store clerk to show you to the clearance rack so you can prevent less-than-perfect fruits and veggies from being tossed out and save money at the same time. 
7. Be realistic about your eating habits
One of the easiest ways to reduce food waste and save money is to only buy what you know you will eat. "Most of the time, we're purchasing too much food because of good intentions: We think, 'This is the week I'm going to eat healthy,' but we still won't enjoy that salad or we'll splurge and buy ourselves a treat even though we have lots of healthy snacks at home," says Keating. "We need to do a reality check on those habits if we're going to make a dent in food waste." 
8. Be mindful of portion size
When you're eating in a dining hall, be mindful of how much food you take. "Start small and go back for more if you are still hungry, rather than taking more than you will be able to eat," says Keating. Whenever you do end up with leftover food on your plate, box it up and take it back to your dorm [or apartment] to eat as a study snack, preventing waste and saving you cash all in one fell swoop. 
When you do end up with leftover portions (either from takeout or your own cooking), don't forget them. "I make a list of leftovers so I don't forget," says Zeina A., a graduate student at the University of Maryland, Baltimore County.  
9. Store your food properly
Food should be stored in an airtight container to keep it fresh for as long as possible. Avoid tossing uncovered plates in the fridge, and transfer takeout leftovers into glass storage containers with a rubber seal rather than leaving them in cardboard bins to make sure they don't spoil before you can enjoy them. Tip: You can pick up a pack of glass food storage containers at any big-name store or online. They aren't too expensive, are usually microwave and dishwasher safe, and should last you much longer than traditional plastic Tupperware. 
10. When in doubt, freeze it
We've all saved leftovers with the best intentions—only to leave them languishing in the fridge until they're spoiled. When in doubt, freeze. "Freezing food is like pressing the pause button," says Keating. So unless you're sure you're going to eat leftovers the next day, pop them in the freezer—it's better to spend an extra few minutes thawing than it is to end up throwing out a good meal. 
As for fresh foods, make sure you store them properly so you don't end up with freezer burn or a soggy mess when you defrost them. "I recently had to throw a bunch [of meat] out because I didn't take it out of the store packaging, and it either had serious freezer burn or the meat just looked funny and a different color," says Emily H., a fourth-year undergrad at the Metropolitan State University of Denver in Colorado.  
Take meat out of the store packaging, and "vacuum seal" it in a plastic Ziploc bag by pressing out all the air. 

Most raw fruits will freeze fine as is. 

Watery veggies, like mushrooms, can go soggy. To help them stay crisp, blanch them for two minutes in boiling water, let cool, and then freeze. 

Avoid putting hot food in the freezer; allow it to cool first. "Not letting hot food cool properly before placing it in the fridge [or freezer] risks spoiling and contaminating other food items already in there," says Tiffany K., a second-year graduate student at the University of Victoria in British Columbia. 

If you have a big batch of leftovers, freeze it in individual portions to make defrosting easier. 
11. Check out composting options
Just because you're not going to eat leftover food doesn't mean it has to go to waste. "See if there are composting options in your community for any remaining food scraps," says Keating. Composting ensures that unused food scraps go to making fertilizer rather than sitting in landfills, where organic matter generates methane—a greenhouse gas that's even worse for the environment than carbon dioxide. Lots of communities and college campuses have compost centers where you can drop off food scraps. If your school doesn't have one, it's a great initiative to think about taking on (and will look great on your résumé).
GET HELP OR FIND OUT MORE
Article sources
Cassandra Andrews, registered dietitian and nutritionist, Orange County, California.
Maddie Keating, regional lead of the Food Matters Initiative, Natural Resources Defense Council in Denver, Colorado. 
CampusWell student survey, May 2021.
Love Eat Travel. (2018, May 25). Is it actually cheaper to buy Imperfect Foods? http://www.weloveeattravel.com/is-it-actually-cheaper-to-buy-imperfect-foods/ 
Rabinowitz, H. (2020, May 14). Misfits Market review: How does ugly produce stack up? Public Goods. https://blog.publicgoods.com/misfits-market-review/ 
United States Environmental Protection Agency. (n.d.) Reducing the impact of wasted food by feeding the soil and composting. https://www.epa.gov/sustainable-management-food/reducing-impact-wasted-food-feeding-soil-and-composting
Yu, Y., & Jaenicke, E. C. (2020). Estimating food waste as household production inefficiency. American Journal of Agricultural Economics, 102(2), 525–547. doi: 10.1002/ajae.12036